About Croatia
Croatia is regularly in the news, both for its world-beating sportsmen and women and for its amazing coastline, with thousands of beautiful islands.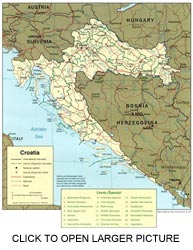 Aside from this, how much do you know about Croatia?
Did you know that it is bigger than Belgium, Denmark, Holland or Switzerland? That its capital, Zagreb, a beautiful Austro-Hungarian gem, has more inhabitants than Amsterdam, Lisbon or Copenhagen? Or that its fabulous coastline — a yachtsman's dream, with numerous marinas, on the Adriatic Sea opposite to Italy — is as long as the English South Coast from Dover to Land's End?
Whilst it has been recently independent since 1991, Dubrovnik, its main Southern city, was the principal city of an independent state for hundreds of years, up until the Napoleonic wars, during which time it was known as Ragusa. Ragusan ships even participated in the Spanish Armada. Croatia's cultural heritage is further borne out by the extensive Roman remains still to be seen in many places, particularly Poreč, Pula and in Split.
Croatia is a country of contrasts. Its geography is immensely varied.
In the East, there is Slavonia, an extension of the Great Hungarian Plain, known to the Romans as Panonia.
In the North is Zagorije, a hilly region with many fine fairy tale castles, which formed part of the Military Border that protected the Southern flanks of the Austro-Hungarian Empire from invasion. Ryanair flights in to Graz, in Austria, are convenient for here, as are BA, Air Croatia and Lufthansa flights in to Zagreb, the capital.
Over in the North West is Istria, not far from Trieste in Italy, and with a very Italian feel to it, both in landscape and food. Istria is easy to reach, with airports at Pula and Rijecka, both important ports, as well as over the border in Trieste, in to which Ryanair flies all year round. Pula has summer flights from Ryanair (Stanstead), Norwegian Air Shuttle (Oslo), German Wings, Wizzair, Tuifly, Thomsonfly and several Russian operators.
Moving South is Dalmatia, with its coastal plain flanking the Dinaric Alps and the thousands of off-shore islands. These vary from large ones with their own towns and villages, like Brac, Cres, Hvar, Krk, Korcula and Rab down to tiny uninhabited ones. The northern ones can be reached through the airport at Rijecka and more southerly ones via Split or Dubrovnik airports. There is an extensive ferry service linking the islands with the mainland.
Property interest:
There is a growing interest in investing in property in Croatia. Popular areas for foreigners are
Istria, in the North West, frequently touted as the new Tuscany, which was part of Italy between the two world wars and part of the Venetian Empire in the Middle Ages. Its proximity to Trieste with Ryanair flights and its location as the nearest point to the sea for much of central Europe, has guaranteed a steady rise in prices, with plenty of room for appreciation yet. There is coastal and inland property for sale as well as hotels. There is also now the new Kempinski 18 hole golf course.
The various islands, from Cres, Krk and Pag, through Vis, Brac and Hvar, down to Korcula and Mljet, many still cheap although time consuming to get to.
The central Dalmatian coast, with Zadar, another Ryanair destination and
The southern coast, around Dubrovnik, where prices are already high.
Climate:
Northern Croatia has a continental climate. Central, semi-mountainous and mountainous regions, as well as the entire Adriatic coast, have a Mediterranean climate. Spring and autumn are mild along the coast, while winter can be cold and snowy in central and northern regions.
Ecology:
Croatia has one of the finest records in the world on ecology, with almost no industrial pollution and crystal clear coastal waters. It jealously guards this reputation.
Food and drink:
Croatia still has very fine traditional food and you will find many pork specialities. Inland the food has a Central European character and the Bjelovar sausages, winter salami, ajvar and strukli are not to be missed. If you can find proper kulen, this is a special treat. On the coast, the food is more Mediterranean, with fresh seafood, pasta and prsut and in Istria, the famous truffles. Croatia has a huge range of very drinkable wines and wines from Ilok were served at Queen Victoria's wedding. The Croatian wines have recently received a wider showing when they were very successful in winning a spectacular number of gold medals in the Decanter World Wine Awards.
For those liking something stronger, raki is often available directly from the farmers who make it.
fake tag heuer replica tag replicas tag heuer tag replica replica tag watch ralph lauren polo long sleeve